Winner of the 2006 OVATION AWARD
Best World Premiere Play
Listen to NPR's feature about Zero Hour here!
The critics are raving about
ZERO HOUR
A New Play
based on the life of
ZERO MOSTEL
Written and Performed
by
JIM BROCHU
"Brochu has brought back to us the memory of a volcano
that was thought to be extinct!"
-Theodore Bikel
LOS ANGELES TIMES
by F. Kathleen Foley (July 14, 2006)
CRITIC'S CHOICE!

By reports, Zero Mostel was a mass of contradictions who vacillated between the explosive and the tender-hearted. Directed by Paul Kreppel, "Zero Hour" captures Mostel's rich contradictions in a loving but unvarnished homage as entertaining as the man himself. Jim Brochu seems almost fatefully destined to play Mostel, not only because he knew Mostel and can bring a deeply personal perspective to his portrayal, but because he is an almost uncanny physical match for his subject. Brochu's fine writing highlights the central events of Mostel's life — including his McCarthy-era blacklisting and his recovery from a devastating bus accident — without ever-belaboring chronology. In a subtly bombastic turn, Brochu reintroduces us to the funny, fantastically contrary Mostel. In all his biting intelligence and imperfection, he has been sorely missed.
L.A. WEEKLY
by Deborah Klugman (July 12, 2006)
CRITIC'S CHOICE!

During the 1950s, Zero Mostel became as famous for his politics as for his comic talents. Summoned before HUAC, he not only refused to name names but, unlike many witnesses, goaded his interrogators instead of quavering before them. Writer/solo performer Jim Brochu's biographical drama is structured as a meeting with a New York Times journalist in 1977 shortly before the comedian's death. The piece with Brochu portraying a blustering Mostel as arrogantly seizing control of the interview by asking his own questions while snidely taunting his unseen guest as he sketches the man's portrait. Directed by Paul Kreppel, the narrative then travels from Mostel's early years as the seventh child born into a large Orthodox Jewish family to his post-blacklist professional successes, achieved more than once in edgy collaborations with Jerome Robbins, whom Mostel despised for naming names and by its end we've come to respect and in some ways even feel close to this outsize personality, whose physical girth was matched by an educated wit and a sprawling humanity.
THE DESERT SUN
by Jeff Britton (July 12, 2006)
CRITIC'S CHOICE!

It takes a big man to fill the shoes of the late Zero Mostel and Jim Brochu slips into those loafers perfectly in "Zero Hour," his brilliant portrayal of the Broadway titan This tribute to Mostel, which he wrote and extensively researched, is even more riveting. Brochu's vignette-filled script is deliciously dense as it unravels this complicated man in all his many paradoxical facets. With his huge expressive blue eyes and his few strands of hair combed forward, Brochu bears a striking resemblance. A general tirade greets the reporter, a foretaste of what's to come when he vents his fury about the McCarthy era blacklists. The show also reveals Mostel's softer side, eliciting empathy as he details a close brush with death. His debut in Ionesco's "Rhinoceros" ("the absurd leading the absurd") and his White House visit with Eleanor Roosevelt ("I gave her her first blintz") offer juicy backstage lore. The time flies by blissfully.
SHOW MAGAZINE
by Joseph Feinstein (July 19, 2006)
Brochu bats a thousand with Zero Hour. The swagger, ferocity, anger, frustration, but mostly the comedic genius of Samuel "Zero" Mostel as played by Jim Brochu comes to life in the West Coast Jewish Theatre's production at the Egyptian Arena Theatre. Mostel seems to inhabit Brochu, and that force, those big eyes, that hammering voice is all evident in this excellent portrayal. We never fail to see Zero the comedian, the clever, witty, sarcastic fellow who carries large chips on his shoulders, yet dispenses his lines with an ever-present sense of humor. At no time can you look away, for you are mesmerized by Brochu's words, gestures, and eye contact. His highs and lows, his screams and whispers, his deliberate movements or stationary moments while drawing, sketching and painting are all so well-directed by Paul Kreppel that we are kept on the edge of our chairs. Mr. Brochu has created a hit which will be received with rapt audience attention anywhere he plans to take the show. Zero always felt he was "the third choice" by producers when they needed an actor. I can assure you this play should be your first choice for exquisite theater.
POV
by Michael Menzies (August 12, 2006)
Rush to see Jim Brochu as Zero Mostel in a performance of such size that it could barely fit in Montana. When he first appeared all the breath was knocked out of me: it was Zero Mostel! He was a force of nature - a storm brewing, thunder, lightning and the sun suddenly coming out. He was all weathers, all temperatures; all magnificent - like a Hirschfeld drawing come to life - I swear I counted ten Nina's. He has such danger on stage: it's like watching a savage bear on a fraying leash, ready for the "snap" of the restraint when he pounces on the audience and devours us. And devour us he does with passion and energy and humor and emotion. I was on a rollercoaster of a ride - laughing and crying and cheering and so enraptured and enthralled - nothing else entered my mind.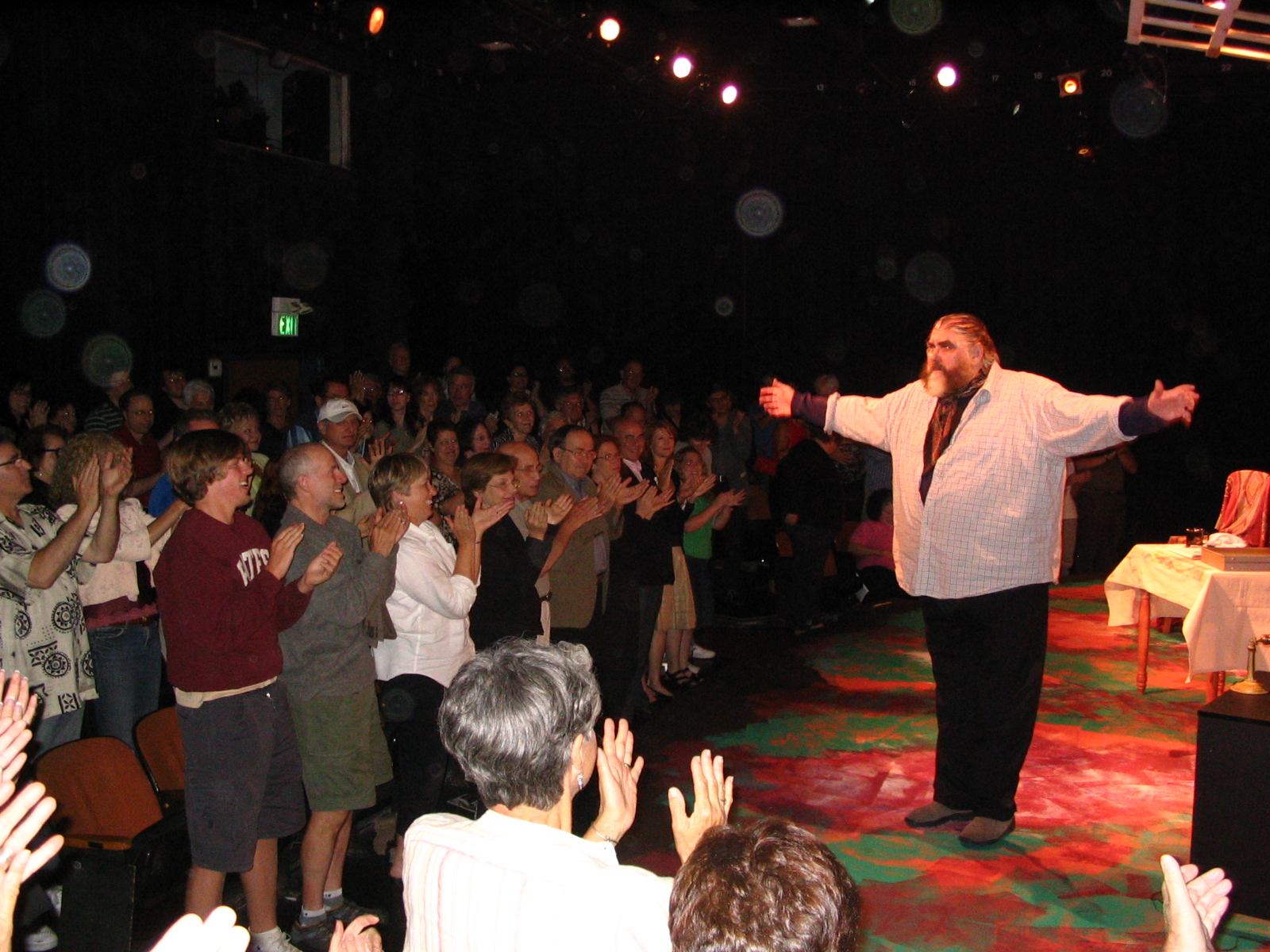 NOHO NEWS
by Don Grigware (Spetember 3, 2006)

In 2006 theatre no single performance could possibly top Jim Brochu's amazing turn as Zero Mostel in his own new play Zero Hour. Brochu is a big man physically, and when he first turns to the audience at the beginning of the first half to supposedly greet his interviewer from the New York Times, he looks amazingly like Mostel - looming large, eyes bugged out to the max and with the characteristic single strands of hair combed like the teeth of a pitchfork over his forehead. He doesn't greet the man with pleasantries, but verbally attacks him, making his guest the victim of his anger, his frustrations, his unique and unyielding sense of humor and his bigger-than-life view of the arts, politics and just about everything else that comes out of his mouth in a steady stream of consciousness - this is the picture Brochu paints of Mostel, the one that I remember from experiencing him on film, on stage and in interviews. What a rich character Mostel was - flamboyant, outspoken, but with a big heart, the heart of a small child crying out for attention and love. He came across as abrasive at times and at other times, warm and friendly - a mass of contradictions. Brochu has finely mastered Mostel's character. It is a remarkable performance, and the writing is superb.
BACKSTAGE WEST
By Wenzel Jones (July 20, 2006)
The initial, almost startling appearance of Jim Brochu in the role of Zero Mostel, so calls to mind a Hirschfeld caricature of the great comic actor that there is no need for a window of time during which the audience decides whether or not it will accept one distinctive actor playing another. Brochu creates a character that never fails to engage whether or not you know anything about Mostel. His performance is like a painting - a dab of bluster, a wash of insecurity and vibrant fields of talent and charisma applied to a sturdy canvas of humanity which create a rich portrait of the man.
THEATREMANIA
by Les Spindle (July 10, 2006)
In Jim Brochu's entertaining new solo play Zero Hour, the writer-performer gives us a flavorful glimpse at the remarkable life and career of the late, great actor-singer-painter Zero Mostel. The play begins in Mostel's Manhattan art studio in 1977, as he is preparing to play Shylock in a play called The Merchant. (Mostel died during an out-of-town tryout in Philadelphia.) The premise is that a New York Times reporter has come to interview Mostel; in exchange Mostel insists on painting a portrait of the newsman. In a fully believable development -- based on what we know of Mostel -- the actor takes over the interview, and his bombastic mix of tirades, jokes, digressions, and laments becomes a crash course in his tumultuous life. The multi-talented Brochu captures the all-important wild-eyed look and the actor's idiosyncratic outbursts are fully credible. Zero Hour's mix of comedy, tragedy, showbiz history, and nostalgia -- results in a fresh and inventive piece.
VARIETY
by Julio Martinez (July 11, 2006)
When Jim Brochu makes his entrance as Zero Mostel, he admirably embodies the flamboyance, mood swings and dead-on comic timing of this legendary yockmeister. He is at his best when demonstrating Mostel's ability to level an audience with his exquisitely executed emotional booby traps. Brochu's Mostel flails through his life and career, unabashedly thrusting the reporter into whatever role suits his immediate fancy, be it sounding board, artist's model, foil, confidante, enemy or pal.The piece is chockfull of captivating Mostel bio tidbits --his early desire to become an artist (including his studies at City College of New York), his first real comic outing in 1941 at the downtown nightclub Cafe Society (on the same bill with Billie Holiday), his courtship and eventual lifelong marriage to former Rockette Kathryn Harkin (whom his orthodox family completely rejected), his never fully realized film career and his transcendent career on Broadway.
TALKIN' BROADWAY
by Sharon Perlmutter (July 10, 2006)
First, Zero Hour is funny - sometimes tremendously so. Once or twice, I found myself not only laughing out loud, but shaking at the memory of the joke several minutes later. But this Mostel doesn't always go for the laugh; his temper can ignite instantaneously, and sometimes his quick shifts from open and friendly to full-voiced insanity are themselves funny. But the play isn't always funny, it is a potent piece of theatre that has something to say.
REVIEWPLAYS.COM
by Cynthia Citron (July 9, 2006)
Zero Mostel, by his own definition, was a "heap of contradictions." He was also, according to Jim Brochu, angry, perverse, rude, insulting, and hilarious. Brochu, who onstage looks amazingly like Mostel, invests the role with a blazing passion and a palpable anger. For actor and playwright Jim Brochu, however, "Zero Hour" has to be one of the greatest achievements of his very extensive career.
NEWS FROM ME
by Mark Evanier (July 8, 2006)
Jim Brochu in his new one-man play, Zero Hour has managed to magically — don't ask me how — turn himself into Zero Mostel. Brochu captures the basic absurdity of the way the man thought, rambling from topic to topic, going from non sequitur to non sequitur and having them somehow flow logically from one to the next. It's probably as close as you could ever come to spending time with the genuine article. Should you be in or around Hollywood through mid-August, I suggest you go. And if you're not in this area, just wait. I have a feeling Jim Brochu is going to be doing this all over America before he's through.
LOS ANGELES CITY BEAT
by Don Shirley (July 22, 2006)
The volatility and theatricality of actor and painter Zero Mostel make him more fit for solo show treatment than many a famous man. Jim Brochu's script evokes memories of the blacklist and a bus accident to darken the greatest-hits chronology, and Brochu's sharp performance displays Mostel's fangs as well as his charm.
BACKSTAGE AT ZERO HOUR

The Amazing Carl Ballantine

Dallas' bad girl, Charlene Tilton

Comedy legend Rip Taylor


Jerry Stiller and Anne Meara



Madeline Lee Gilford, who like Zero, was blacklisted.

Barbara Rush and her niece, actress Carolyn Hennessey

The Great Doris Roberts
http://www.jimbrochu.com/contact.html